Health Quotient is offering Drug Abuse Screening to Corporate as well as individuals to detect the usage of these Drugs including Alcohol as part of its Drug Monitoring services. We are using latest technology and methodology to report the presence of these drugs.
The tests for Drug Abuse are available for different drugs. We also have the panels for the set of Drugs. Health Quotient also have tests for Nicotine and Alcohol. Drug Abuse screening for Children and teenager

Drug Abuse screening for Sport person

⇒ Pre-Employment Check-ups for multiple Drugs
⇒ Drug Screening for employees
⇒ Pre-Insurance Drug Screening
⇒ Drug Screening for Background validation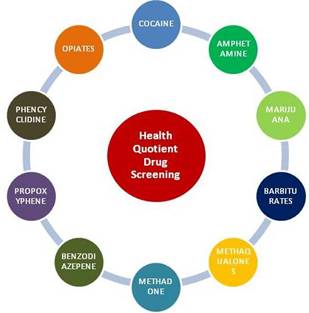 Drug Screening is done using Urine, Blood, Hair sample, which can be withdrawn at our centers , your office or residence of an individual.