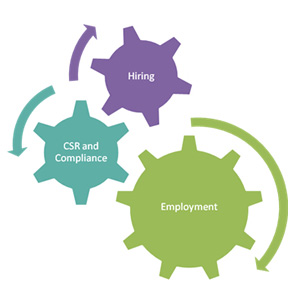 Preventive Health Management in corporate world has become a necessity and quite challenging as it not only covers the employees health but it equally important that an employer not only KNOW and manage the health of employed population but also screen prospective employees health before employing them.

Ever increasing (10% average annually) Insurance Premium for Indian Corporate is a worry for most of the organizations

The spread of communicable disease and 'Drug Abuse' require that employer also know the health and hygiene factors of their vendor/temporary staff like food handlers, security staff, house keeping and other support vendor as they could be a silent but a serious threat to the whole eco system of the company. Corporate Social Responsibility (CSR) and other compliance issues require a comprehensive Heath Management program.

Health Quotient has a Comprehensive Health Management Program to cover the end to end need of the an organization and improving Health Quotient of the company and its employees.
Hiring

⇒ Pre-Employment Heatlh screening
⇒ Employee Drug Addiction & Pre Employment Drug Testing

Employment

⇒ Annual Health Checkups
⇒ On-site Preventive Heath checkups
⇒ Drug screening
⇒ Employees Vaccination
⇒ Monthly Home Heath checkups for parents and relatives for the employees, who are abroad or out of station or having lack of time
⇒ Heath screening of Food Handlers in Canteen or vendors
⇒ 'Health Quotient Privilege Membership' for employees and their family for Diagnostic and preventive car


Corporate Social Responsibility (CSR)/Compliance

⇒ Organizing Health camps for the underprivileged segment of society
⇒ Children health checkup in government schools and orphanage
⇒ Health checkup for Senior citizen
⇒ First Aid or CPR training to employees and security agency
⇒ Vaccination

We at Health Quotient believe that health related needs of every organization and industry are different as it depends on many parameters like working condition, nature of job, location, job shift, Age group and of course budget. Therefore we always recommend a customized Health Checkup Panel (set of medical examination and tests). Health Quotient has created some Intellectual Property (IP) to designed such panels based on our experience in working with various industry and knowledge repository of health related issues in these industry. However we are quite open to follow any panel an organization want us to use.